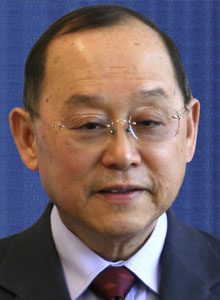 ISMC is proud to have Dr. Thomas Chen on our scientific advisory board. He is a distinguished theoretical, conceptual and empirical expert in the fields of molecular endocrinology, biotechnology, transgenic disease resistant shrimp and fin-fish, food and agriculture products. His discovery and patents of an E-Peptide extracted from rainbow trout is applicable to oncology and stem cell differentiation. Dr. Steve Diamond, ISMC President/COO and Mr. Barry Ressler, ISMC Chairman/CEO have partnered with Dr. Chen to found EPTherapeutics. The patents for use in clinical treatment are under the ISMC umbrella. ISMC has initiated internally funded studies to compare the E-Peptide validation at 1-G on earth to the more challenging environment in MicroG. Studies have been submitted evaluating the peptide's effect on malignant breast MDA-MB231 tumor cells by apoptosis. Concomitantly, the effects of E-Peptide will be studied on mesenchymal stem cells.
Dr. Chen will also participate in ISMC's expanding gestation and survivability of seed/ plant and food application for humans in space by applying advanced pathogen inactivation, photo-stimulation, radiation effects (mutations and radiation formation) mitigation and where applicable transgenic science. Dr. Chen was a member of the AgricultureTechnology and Biotechnology Advisory Board to the commissioner of Agriculture of the State of Connecticut. He holds patents in the fields of aquaculture and disease resistant food products.
Dr. Chen received his Ph.D. degree in Genetics from the University of Alberta, Canada, in 1973.  He has served as a post-doctoral fellow at Queen's University, and Professor at McMaster University, both in Canada. From 1986-1995, Dr. Chen also served as Associate Director for research and faculty development at the Center of Marine Biotechnology and Associate Provost of University of Maryland Baltimore Institute. In 1995, Professor Chen was recruited by the University of Connecticut to head the Biotechnology Center and serve as a professor at the Department of Molecular and Cell Biology.  He stepped down from the directorship of the Biotechnology Center in July 2002 and continues to serve as a professor in the Department of Molecular & Cell Biology.