PRESS RELEASE
1st September 2014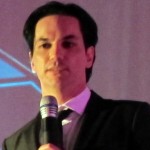 APPOINTMENT OF MR. FABRIZIO GRAMUGLIO AS DIRECTOR OF THE ISMC HUMAN-COMPUTER AND AUGMENTED INTERACTION GROUP
*********************************************************************************************************
The Board of Directors and Executive Team of the International Space Medicine Consortium, ISMC, are pleased to announce the appointment of Mr. Fabrizio Gramuglio as Director of the ISMC Human-Computer and Augmented Interaction Group.
Mr Fabrizio Gramuglio is an innovative and creative entrepreneur, pioneering emerging technologies in the areas of artificial intelligence (AI), artificial empathy (AE) and Human-Computer Interactions (HCI). Over the years, he has earned the respect and admiration of his peers and colleagues as a pioneer in voice interaction between man and machine.
As a successful entrepreneur, Fabrizio has founded several start-ups. He is the CEO of Forever Identity, an established Italian based company, working on leveraging state-of-the-art technology and leading edge research focusing on developing the preservation of One's being and unique character: how a person perceives context, expresses emotions, values and aspirations that drive behaviors and actions.
Fabrizio's company has focused on integrating disruptive innovations in the areas of  conceptual design, research and development, and has demonstrated  the concept of a "3D Holographic Persona"  by incorporating  AI and AE to recreate an intelligent digital "Identity Persona" capable to communicate and interact directly with a human being based on detected feedbacks from a person's facial gestures, emotional stance, physical postures and situational tasks.  In short, Forever's unique platform allows a person's digital "Identity" to "come to life".
Fabrizio has amassed solid experience in the senior executive management level serving for many years as Senior IT Manager overseeing various Human-Machine interaction, Human -like interactions and dialogue systems projects for international private and public corporations including partnerships and collaborations with scientific, academic and government organizations.
Fabrizio is an excellent communicator and speaker with many years of experience overseeing various international forums, scientific and corporate seminars, national and international congresses. He is a prolific writer with multiple publications and articles published online, social media platforms and in traditional newspapers.
Please join us in congratulating and welcoming Fabrizio to ISMC
Sincerely,
Barry Ressler
Chairman, Board of Directors
International Space Medicine Consortium, ISMC
Contact:  info@spacemedicineconsortium.com